The Millennial's View
Posted on May 5, 2017
Sary here – the token Millennial on the Lethbridge Toyota sales team. You're for sure going to want to hear what I have to say about Toyota's new Compact High-Rider – the C-HR. So. Much. Awesome.
FIRST IMPRESSIONS
When I first laid eyes on the C-HR I noticed it really stood out in our showroom. It was incredibly easy to spot—I mean, no one could mistake this for a Corolla! The C-HR looks like something you'd expect from the 2023 Toyota lineup. The future is here! And although I was originally wary of the C-HR's Futurama-feel, the more time I spent checking it out, the more attached and excited I got!
When I first sat in it….WOW… this vehicle instantly molded to my body and my mind. It felt great! I had an instant connection with the C-HR even before I turned the car on. You know, every once in a while you find a vehicle that feels natural the moment you sit down—as if you already own it, and have been driving it forever. This is exactly the vibe you get from the C-HR. The moment I got in, I wanted to get moving!
ROLL WITH ME
Seriously – this vehicle is the definition of driver-centric. The interior is like a comfortable cockpit where driving becomes effortless. The seating position is well placed and there are minimal distractions between your eyes and the road, giving increased visibility directly in front of the vehicle. Every detail has been refined to make sure that you are comfortable and at ease. It's all about you and your experience—from where the controls are located to Toyota Safety Sense!
Now, I like to think that I don't drive like a maniac. However, no matter how cautious anyone is, mistakes are made and accidents happen. That's where Toyota Safety Sense comes in. It's standard on every model. To be honest, I'm sure I do fine 90% of the time without these incredible features, but when they engage, I am super glad they are there. Knowing that Toyota Safety Sense can mean the difference between life and death gives even a young guy like me peace of mind.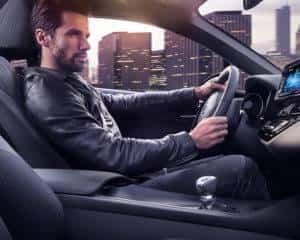 PERFECT PRECISION
In addition to being a full time Product Advisor here at Lethbridge Toyota, I'm a full time car enthusiast. I've been driving a pretty slick rally-based vehicle for a while now, and it's spoiled me. The C-HR is the first vehicle on Toyota's New Global Architecture (TNGA), meaning it's capable of achieving many things that other vehicles in its class simply cannot. With the C-HR, I got the driving capability and control that I'm used to with my high-performance sedan without having to sacrifice cargo space and ride height. Welcome to the world of compact crossovers!
Honestly, I was shocked how awesome the C-HR handled—like mind-blown. This vehicle is built with centre of gravity in mind, which means you can maneuver with far more stability and precision than most vehicles in its class. What does that mean to the average person? You can drive this vehicle with less effort and with more comfort; you are in control no matter the conditions.
WHY THE C-HR IS FOR YOU
If you like to stand out and have something to show off, you'll love the C-HR. It's a head turner—truly a great vehicle that exuberates a fresh, vibrant, and exciting vibe. If you are looking for a modern vehicle with prairie practicality and urban style that won't break the bank, the C-HR should definitely be on your radar. In June, we're having a HUGE test drive event. Come down and give us your testimonials, and we'll enter you to win 15,000 Aeroplan points – no purchase necessary. Give me a call and let's set something up! I would LOVE to show you the C-HR.